AeroFlow® Electric Radiator MIDI 1950 with FlexiSmart controller
Note: Goods forwarded, delivery time 4 - 5 business days
AeroFlow® Electric Radiator MIDI 1950 with FlexiSmart controller
Aeroflow electric radiators - "Made in Germany" brand quality
The Aeroflow electric radiators lead the market for the efficient electric heating of residential areas, garden houses and attics. They can also be used in energy-efficient and passive houses. In addition, the electric radiators can be used in an environmentally friendly and emission-free manner by connecting them to the solar power supply.
The Aeroflow electric radiators from Thermotec use a combination of convection heat and radiant heat. This innovation makes it possible to convert energy into heat in 100%. The integrated core stores heat optimally and gives it off to the room. This ensures that the room is still efficiently heated when the electric radiator is switched off. The electric storage radiators are available for rooms of different sizes.
Thermotec AG has been manufacturing high-quality and innovative electric radiators for many years. They are exported to the whole world from the company's headquarters in Vierkirchen (Saxony, Germany). At the same time, the company emphasizes the German quality and offers a 30-year manufacturer's warranty. The Aeroflow electric radiators are designed and manufactured in Germany. In 2015, Thermotec AG was recognised as a company of the year.
Electric heating thanks to convection heat
The specially developed fins ensure the best possible heat distribution in the room. Through convection, cold air is taken into the heat cycle and warmed up.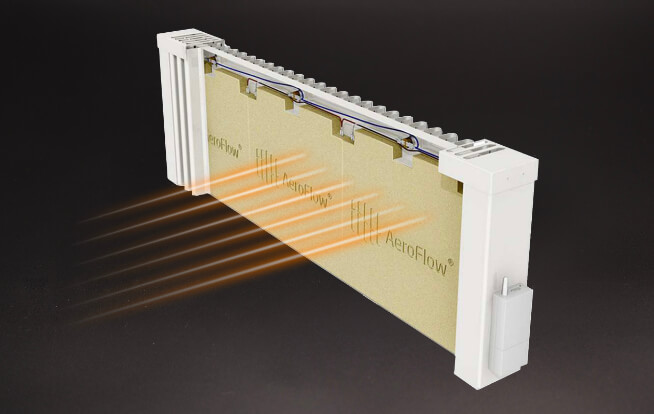 Heat storage through fireclay storage core
After only a short heating phase, the two-centimetre-thick fireclay storage core enables the efficient storage of heat, which is conducted into the room in a targeted and even manner. In addition to this, a reheating effect is created.
Window mode ensures economical heating
When window mode is activated, the Aeroflow surface storage heating intelligently detects open windows. The heating function is automatically switched off.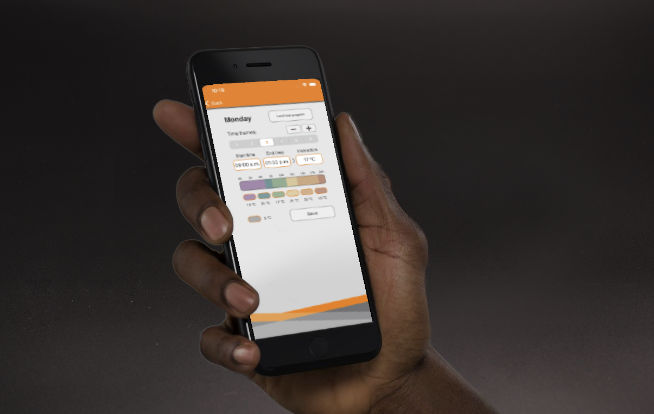 Heating plans programme for your comfort temperature
The Aeroflow electric heater allows you to create individual heating schedules for every day of the week. The programme can be programmed according to your individual habits. A comfortably warm home awaits you at all times.
Dimensions (width x height x depth):
980 x 610 x 90 mm
Material:
Steel, fully galvanised
Colour:
RAL 9010 pure white
Scope of delivery:
Wall bracket, fixing material, safety plug with 1.5 m connection cable
Nennspannung:
220 - 230 Volt